Cremation and the use of an urn for burial have been used since the start of recorded history.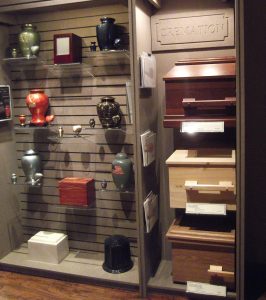 Honoring loved ones based on different cultural and religious beliefs has changed over the centuries, as have cremation urns.
Urns can come in bronze, glass, metal, ceramic and wood. Marble is also a very popular material used in cremation urns. If the urn is going to be buried, metal or bronze are usually used to ensure the urn doesn't break.
Because cremation has gained popularity in recent years, manufacturers of cremation containers have turned to artists to create elaborate keepsake urns. Many cremation urns can be custom crafted for you to remember your loved one in your own way. We have many people come to us when planning their own funeral who choose their own urn.
We have a variety of urns you can choose from when planning for a funeral service. We invite you to come and speak with us and we will walk your through the entire process.