Beginning with the basics, our funeral and burial services include filing all the necessary paperwork, securing copies of the death certificate, and coordinating all arrangements with you. We want to make this difficult time less painful so you can spend quality time with others remembering and honoring your loved one.
Our funeral and burial services also offer varieties of caskets and urns to ensure you are honoring and remembering your loved one in a unique, personal way. We offer many types of wood and metal caskets as well as keepsake urns.
If you chose cremation, we offer rental caskets for viewing and funerals.
While you can purchase these services from another provider and we will not charge you for doing that, some of our funeral services require specific options be used. This will all be discussed when you call or come visit us.
From cremations and graveside burial services to visitation services, Smith is here for you.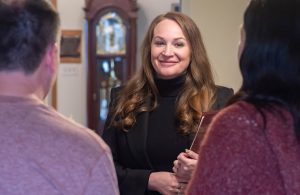 Graveside burial services can be customized to your family's wants and needs. Whether it is private with close family and friends, or traditional and open to everyone after the funeral, Smith can assist and make it special.
As cremations are becoming a popular way to honor a loved one after passing, Smith has many options. Cremations can occur after the traditional funeral or before a memorial service. Smith Funeral Chapel is eager to work with you and find the best way to honor your loved one.
Visitation services are provided by Smith Funeral Chapel as well. A visitation is a time to gather with family and friends to honor the loved one however you chose to do so. Contact Smith to arrange the specific details and talk through the options for visitations.
If you have any questions, please do not hesitate to contact us at any time.