At Smith Funeral Home, we will be there for you and your family every step of the way during difficult times. That includes providing funeral visitation services to celebrate the life of your loved one. Prior to the funeral viewing, a visitation allows family and friends to come and pay their last respects to their loved one and have some closure.
Why Should You Use Funeral Visitation Services
During this difficult time, it is common for family, friends or acquaintances of the deceased to not quite know how to handle the passing of a loved one. They may not know how to offer support to the family and funeral visitations provide the opportunity for people to provide their support. A funeral visitation is less formal than a memorial service and that may make it easier for loved ones to cope with one another. A visitation is also an opportunity for friends and family to reflect on the life of the deceased and think about the fond memories you have of them.
Funeral Visitation Services We Provide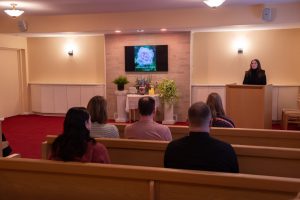 Smith Funeral Home's funeral visitation services allow the family to request when the visitation will take place. Prior to the funeral or celebration of life, the visitation may take place at our funeral home, but can also be held at a church, your home or elsewhere if preferred. Providing refreshments is allowed and is a good way for family and friends of the deceased to mingle and provide support for one another. We are able to play music of the family's choosing or we will provide quiet instrumental music during the visitation. Displaying pictures and/or playing a video during the visitation is also an option. Finally, the family may decide if they would like viewing of their loved one to take place or not.
Feel free to contact us for more information about our funeral visitation services.