Dorothy L. Carpenter, 102 of Eau Claire passed away Friday, May 1, 2015 at Country Terrace in Altoona.
Dorothy was born on February 24, 1913 to Charles and Beda (Hysen) Johnson in Dunn County. She married Albert J. Carpenter on September 19, 1932 in Eau Claire. Dorothy loved her family above all else. She enjoyed cooking, knitting, sewing, and crocheting.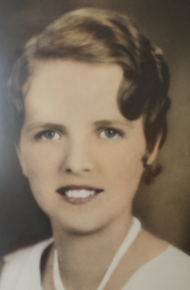 Dorothy is survived by her four children, Dale (Virginia) Carpenter of Shorewood, MN, Gerald (Cleo) Carpenter of Eau Claire, John (LuEllen) Carpenter of Whitehall, WI, and William (Carol) Carpenter of Eau Claire; ten grandchildren, Steven (Diane) Carpenter of Rosemont, MN, Gregory (Sheryl) Carpenter of Mayer, MN, LeAnne (James) Harding of Richfield, MN, Lynn (Dave) Schlitzche of Apple Valley, MN, Anthony (Kimberly) Carpenter of Minneapolis, MN, John Carpenter of Boston, Kenneth Carpenter of Rice Lake, WI, Richard (Sherry) Berg of Menomonie, WI, Shelly (Steve) Anderson of Eau Claire, and Rebecca (John) Stafford of Osseo, WI; twenty-three great-grandchildren; seven great-great grandchildren; and many nieces, nephews, and other relatives.
Dorothy was preceded in death by her husband, Albert J. Carpenter; four children; and four siblings.
In lieu of flowers, memorials may be made to Immanuel Lutheran Church or the charity of your choice.
Funeral services will be on Tuesday, May 5, 2015 at 11:00 am at Immanuel Lutheran Church with Pastor Paul Settergren officiating. Visitation will be one hour prior to the services on Tuesday at the church. Burial will follow the services at Rest Haven Cemetery.