Kenneth J. Hillestad, 81 of Eau Claire passed away Sunday, December 13, 2015 at Mayo Clinic Health System-Chippewa Valley in Bloomer, Wisconsin.
Ken was born to James and Annette Hillestad in Eau Claire. Ken graduated from Eau Claire Senior High School in 1952. He lived his whole life in Eau Claire. Ken owned and operated Hillestad Gas Station for many years on the corner of Birch Street and Starr Avenue. He was also a Reserve Deputy for the Eau Claire County Sherriff's Department. Ken served in the Wisconsin Army National Guard. He was a crossing guard for the Eau Claire School District and also worked for the parking program at Chippewa Valley Technical College. Ken was a member of the Eau Claire Rod and Gun Club where he enjoyed shooting trap. Ken enjoyed the company of his friends at The Labor Temple on Birch Street and was an avid Packer Fan. Ken was known to his friends and neighbors as "a really nice guy."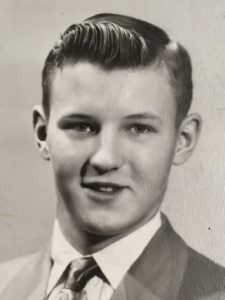 Ken is survived by his sisters, Yvonne (Robert) Field and Elizabeth House; nephews, Gary (Kathy) Field, Tom (Inna) Field, and Mitchell (Luann) House; nieces, Marcy (Paul) Zurn, Bonita (Kevin) Roach; and many great nieces and great nephews.
Ken was preceded in death by his parents; brother-in-law, Gerald House; nephew, Newell House; and nieces, Cheryl Thomas and Brenda Capozzi.
The family would like to give a special thanks to the Mayo Clinic Home Health & Hospice for all of their care.
Visitation will be on Saturday, December 19, 2015 from 1:00 to 3:00 pm at Smith Funeral Chapel. Burial will follow the visitation at Lutheran Cemetery.