Patricia R. Nelson, 74 of Eau Claire passed away Monday, July 27, 2015 at Care Partners in Eau Claire.
Patricia was born on June 4, 1941 to James Sr. and Lorayn (O'Brien) Young in Platteville, Wisconsin. Patricia graduated in 1960 from Memorial High School. She worked at the Clairemont Nursing Home as the Housekeeping Supervisor for over 25 years. She married Robert Nelson on June 29, 1984 in Eau Claire.
Patricia is survived by her husband, Robert Nelson; three children, Charles Jr. (Julie)Brummond, Cheri (Brummond) Wilkerson, and Joseph (Mary) Brummond; two stepchildren, Kevin Nelson and Shannon Nelson; six grandchildren, Stephanie, Miranda, Jeffrey, Amanda, Joseph Jr., and Charlene "Charlie"; one step granddaughter, Kami; five great-grandchildren; two sisters, Sally (Raymond) Belden and Susan (Arnie) Peissig; and numerous nieces and nephews.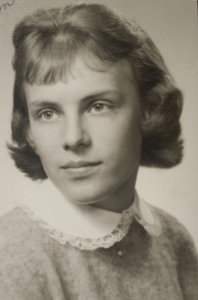 Patricia was preceded in death by two grandchildren, Kristi Brummond and Dakota Brummond; and four siblings, James Young Jr., Rita Bridges, Donald Young and William "Billy" Young.
Memorial services will be on Saturday, August 1, 2015 at 11:00 am at Smith Funeral Chapel with Pastor Robert Hoekstra officiating. Visitation will be one hour prior to the services on Saturday at the funeral home. Burial will be at Forest Hill Cemetery following the service.