Sylvia Sipress peacefully passed away the evening of November 25, 2015, at Azura Memory Care, Eau Claire. During the day she was surrounded by loving family – her son Neal, his wife Karen, their daughter Mina, and Sylvia's husband of 48 years, Mort. Her smile marked the love that all felt.
Sylvia was born on June 27, 1937, in Brooklyn, NY, and raised there by her parents, Hyman and May Margulies. Sylvia lived at home in Brooklyn until after she earned her BA degree in Political Science at Brooklyn College. From January to August of 1959 she worked as the Executive Secretary to the President of the American Foreign Policy Association in New York City.
Then she migrated to Madison, Wisconsin, where she enrolled in the University of Wisconsin's Political Science graduate program. She was transformed into a Midwesterner. Sylvia became the sixth woman to earn a Ph.D. in Political Science at the University of Wisconsin (1965).
Sylvia enjoyed a long career as a political science professor, with 35 years of teaching and scholarship at the University of Wisconsin-Eau Claire (1964-1999). During this period, she was an exemplary teacher and was deeply involved in scholarship and public service. Her specialties included Soviet and Russian Area Studies and comparative politics. She was especially devoted to her students frequently meeting with them one on one.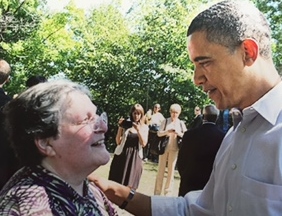 Her first teaching job was as a visiting professor at North Dakota State University (1963-64). A year later she returned to Wisconsin and became the first woman to join the Political Science faculty at the University of Wisconsin-Eau Claire. Here she rose to full professorship and attained emeritus status upon retirement in 1999. It was at UWEC that she met her husband, Mort Sipress, when he joined the faculty as a political scientist. Together they raised three children and served as role models for working professionals who also maintained an active family and community life. She demonstrated an uncanny ability to balance her professional responsibilities with her family's needs and important community service.
The special needs of two of their children also brought Sylvia into an active advocacy role for children with disabilities. She became both a local and statewide leader through her advocacy first for children, then adults with disabilities. At the same time, she also found the time and energy to attend to the needs of their son who was quite gifted.
Some of Sylvia's accomplishments include: President, Wisconsin. Political Science Association, 1979-80. Publications and Papers: Sylvia Margulies, The Pilgrimage to Russia, 1924-37 (Madison: Univ. of Wisconsin Press, 1968); Reviewed and edited "Sweden's Road to a Unicameral Parliament," chapter 4 in Two Into One: The Politics and Processes of National Legislative Cameral Change, Westview Press, 1991. Chairperson and discussant on panel, "Contemporary Soviet Policy Problems," 1986 Midwest Slavic Conf., Madison, April 18-19, 1986. Service: Director, Soviet Seminar – 1978-79, 1982-83, 1984-85, 1987-89. Also led student groups to the Soviet Union five times. Member, Faculty Senate – 1965-69, 1980-84. Faculty Personnel Committee, 1981-84; chair 1983-84. Woman of the Year award from the Mental Health Association of Eau Claire, 2002. Volunteer teacher, Literacy Volunteers of Eau Claire, 2001-2007. Volunteer archivist, Chippewa Valley Museum, 2001-2009. President, Association of Retarded Citizens of Eau Claire County, l989-1991. Recipient of the George Gorney Memorial Award, l989, from the ARC of Wisconsin, given to an individual who successfully advocated on behalf of people with developmental disabilities. Member of Special Committee on Developmental Disabilities Laws, Wisconsin Legislative Council, l988-89. Member of the Eau Claire County Department of Human Services Long Term Support Committees, l987-2004; chair 1987-88. Member of Wisconsin Council on Developmental Disabilities, 1983-87; Executive Committee, 1985-1987. Member of Exceptional Education Advisory Committee to Eau Claire School System 1976-l988, chaired Committee, 1980-84. Co-chair, Wisconsin Open Door Society, 1978-80. Co-president, Park School PTA, 1976-78. President of Chippewa Valley Civil Liberties Union, 1968. Member, Clear Water Kiwanis, 2000-2010; executive board 2006-2008. Active supporter, Barak Obama for President, 2007-08.
Sylvia Sipress is survived by her husband Mort, of 48 years; her children – Neal, Eau Claire (Karen), Matthew, So. Orange, NJ, and Judy, Eau Claire; her grandaughter – Mina, Eau Claire; her brother-in-law – Ron, Medford, Ore; one niece – Fran, New York; two nephews – Steven (Michele), Chicago and Philip, Medford, Ore.
In lieu of flowers, donations in honor of Sylvia would be welcome to Temple Sholom (P.O. Box 1059, Eau Claire, WI 54702-1059); The ARC of Eau Claire (800 Wisconsin Street, Bldg. D02, Suite 318. Eau Claire, WI 54703); or The Political Science Development Fund, University Of Wisconsin-Eau Claire Foundation (UW-EC Foundation, Eau Claire, WI 54702).
The family would like to give a special thank you to Azura Memory Care and Mayo Clinic System-Home Health & Hospice for the wonderful care given to Sylvia.
The funeral service will be on Wednesday December 2, 2015, at Temple Sholom, 1223 Emery Street, Eau Claire, at 1:30 PM with Rabbi Shosh Dworsky officiating. Burial will follow at the B'nai B'rith Cemetery on Omaha Street in Eau Claire. A reception will follow at Temple Sholom.