Catherine Hemenway, age, 72 of Eau Claire, WI passed away on Friday, September 11, 2015 at Sacred Heart Hospital with family by her side while under the care of St. Joseph's Hospice.
Catherine was born in Beloit, WI on February 5, 1943 to Shelly and Jennie (Morse) Willison.
Catherine worked at Presto, Uniroyal and Phillips Plastics, among others. She retired from Phillips Plastics at the age of 62.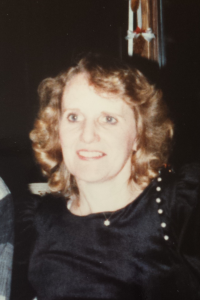 Catherine loved dolls. She enjoyed going to doll shows and had an extensive collection as she never met a doll she didn't love. She enjoyed working in her flower gardens. Catherine always made sure that her house was decorated for every holiday, with Christmas being her favorite. She enjoyed putting puzzles together and watching movies. Drinking tea and treasure hunting at garage sales were a couple of her favorite things. Catherine enjoyed baking cookies and spending time with her Grandchildren who truly were the light of her life.
Over the years Catherine and her companion Peter enjoyed motorcycle rides, snowmobiling, airplanes rides (along with their friends the Quirk's) and spending time at his cabin on Lake Eau Claire. They also enjoyed traveling together.
Catherine is survived by her two daughters; Aledgra (Mike Houston) Beeksma of Chippewa Falls, WI.

Bonetta (John) Sorg of Eau Claire, WI.

Four grandchildren; Shawn Anibas of Oahu, HI, Cody Beeksma of Chippewa Falls, WI, Tanner Beeksma of Somerset, WI, Kennedy Sorg of Chippewa Falls, WI. One great grandchild Asher Beeksma. Seven siblings; James, Beatrice, Eugene, Gerald, Carolyn, Altanette and Nancy also several favorite nieces and nephews. She is further survived by her loving companion of over 35 years; Peter Crooker of Eau Claire, WI.
She was preceded in death by; her parents, Shelly and Jennie (Morse) Willison and eldest sister Bonnie.
A celebration of life for Catherine will be held on Wednesday, September 16, 2015 from noon until 2:30 pm at Smith Funeral Chapel (2222 London Rd.

Eau Claire) (715-832-1141).